Source: "
Math Gains Reported for U.S. Students
," SAM DILLON,
The New York Times
, December 9, 2008.
American fourth- and eighth-grade students made gains in math in the 2007 surveys of the
Trends in International Mathematics and Science Study
(TIMSS), an international survey released on Tuesday. Science performance was flat. Several Asian countries continued to outperform the United States greatly in science and math.
Students in Massachusetts and Minnesota, which participated in a special study that attributed a score to the states as if they were individual countries, also demonstrated stellar achievement, outperforming classmates in all but a handful of countries.

In eighth-grade science, for instance, Massachusetts students, on average, scored higher than or equal to students in all countries but Singapore and Taiwan.

And in Minnesota, which has worked to improve its math curriculum, the proportion of fourth-grade students performing at the advanced level jumped from 9 percent in 1995 to 18 percent in 2007, a gain that was one of the world's largest.
Comment:
We have known for a long time that the students from the best schools in the United States are very good indeed, and that there are schools that turn out very few if any students compeitive at the university level.

Some states have more of the former class of schools, some have more of the latter. Shame on the states that are not educating their kids! If we allow that to continue, we will lose out economically and socially in the future.
JAD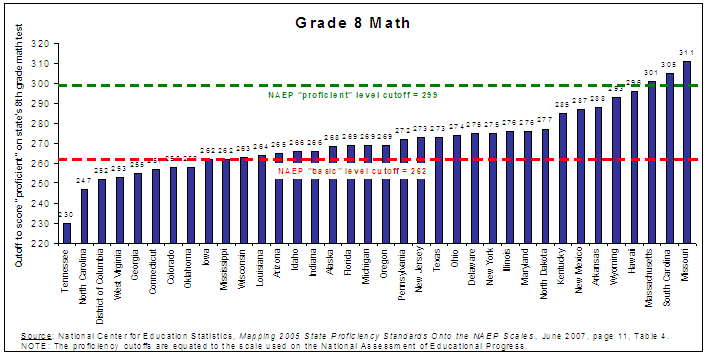 Source of Graph: "One Scattered Nation: A Pathway to Common Standards,"
Marc Lampkin, The Huffington Post, July 17, 2008.