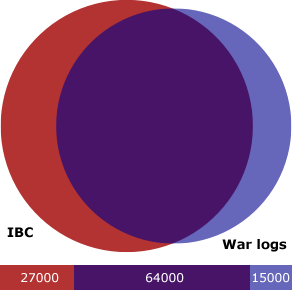 Iraq Body Count
has been keeping a running account of the reported deaths of Iraqis from violence during the Iraq war. The Wikileaks publication of some 400,000 military reports from that war provide another source of data on these deaths. As shown above, there are Iraqi deaths previously noted in the Iraq Body Count inventory that were not included in the Wikileaks information and vice versa. Iraq Body Count has used the two sources therefore to estimate the total number of Iraqis. As a preliminary estimate based on this work, Iraq Body Count now estimates 150,000 Iraqis killed by violence during the war to date.
This new count corresponds somewhat with
the World Health Organization estimate
of 151,000 violent deaths in Iraq made about two years ago.
A controversial study
, published by
The Lancet
after peer review in 2996, concluded that "as of July, 2006, there have been 654,965 (392,979 to 942,636) excess Iraqi deaths as a consequence of the war". Note that the "excess deaths" would include not only deaths from violence, but also deaths from disease, malnutrition or lack of adequate medical care that would presumably have been averted had there not been the war.
We will probably never know the true number of Iraqi lives that the war has cost, but surely that number dwarfs the deaths in the coalition forces and represents a huge tragedy for the Iraqi people.