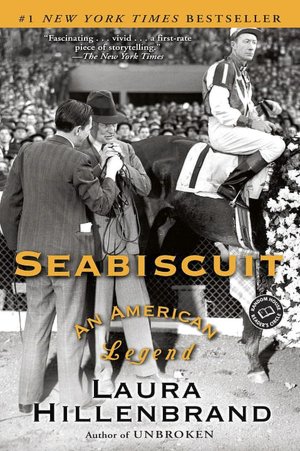 The Horse
: Seabiscuit was a grandson of Man of War, a great horse. When he was bought by Charles Howard in 1936 he had been trained by Sunny Jim Fitzsimmons, thought to be the best trainer in America. Then a three year old, he had raced 42 times. He had failed to win in his first 17 races. Although as a two year old he had won five races and come in second seven times, these races were generally against poor competition. He had run in a claiming race in which he could have been bought for $2,500. He was described as undersized, knobby-kneed, with a strange gait and given to sleeping and eating for long periods. In 1940 he suffered an injury that veterinarians thought would end his career, but came back for a few races in 1941.
The Trainer
: Tom Smith, who had been a cowboy and foreman for many years, had been brought low in the depression. He had at one time been the trainer of a single horse, so poor that he had to sleep in the stables on a cot. His training methods were thought to be unusual when he was hired by Howard to train Seabiscuit.
The Jockeys
: Red Pollard, Seabiscuit's principle jockey, with a seventh grade education had been struggling for rides, and was winning only six percent of his races when hired by Smith to ride Seabiscuit. He had been blinded in one eye in an earlier race, an injury he kept secret since it would have ended his career. In 1938 Pollard was very seriously injured when a horse fell on him. After a long recovery, he returned to racing, but was seriously injured again suffering multiple fractures of his leg when a horse he was exercising ran away; this injury was thought to end his career but after a long recovery, Pollard returned to ride Seabiscuit in his final races.
George Wolfe, while a jockey of great talent, suffered from Type I Diabetes. Like most jockeys, he was forced into extreme dieting and other techniques to maintain low weight, practices which made control of his diabetes extremely difficult. He died in 1946 as the result of injuries when he fell from a horse during a race.
The Success.
Seabiscuit was taken to California by his team, and won his last two races there in 1936. In 1937, Seabiscuit won eleven of his fifteen races in 1938and was the year's leading money winner in the United States. Perhaps his most famous race was a match race in 1938 with War Admiral, another great house that had won the triple crown in 1937; he was named horse of the year as a result. In his final race in 1940, Seabiscuit won the Santa Anita Handicap, and its $121,000 prize before 78,000 paying spectators (perhaps the largest crowd in U.S. racing history). Seabiscuit was at the time getting more newspaper coverage than President Roosevelt or any other person in the world. Seabiscuit is one of the few horses that is still widely known from the first half of the 20th century.
Why I posted this:
Handicapping is an expert field. Men spend their lives learning to predict the outcome of horse races. Millions depend on their accuracy. A handicapper who makes too many errors quickly loses his job. Yet almost without exception, the horse racing world dismissed Seabiscuit when Howard bought him as a second rater. If those experts, having seen the horse in 42 races made that mistake, how much faith are you going to put into school grades for kids?
There was a second chance for Seabiscuit, Smith, and Pollard and it paid off in one of the most successful partnerships horse racing has ever seen. It may be worth remembering that fact as we judge others.