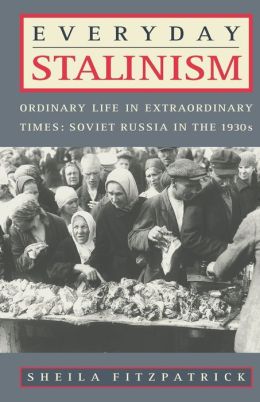 I have been reading
Everyday Stalinism: Ordinary Life in Extraordinary Times: Soviet Russia in the 1930s
by Sheila Fitzpatrick. This is social history, dealing with the aspects of everyday life in Russia in the 1930s.
It seems appropriate that a couple of decades after the breakup of the Soviet Union and the end of the Cold War we look at Stalinism with some historical perspective.
Obviously the Russians were struggling to invent new political institutions after
the Russian Revolution
and
Civil War
. The result was an authoritarian, coercive system which in the 1930s resulted in a cult of personality around Stalin.
The Russians were also struggling to invent new economic institutions having abolished private property and markets. The problems of production and distribution had to be solved.
As the book shows, a new social order was also developing with its own class structure. Aristocrats, priests, kulaks, and the bourgeoisie were eliminated. Communist functionaries, the proletariat, and intellectuals were given more prominence. Urbanization was rapid, and rural communities were seen as "backward". Secular forces successfully attacked Russia's traditional religious institutions.
Stalin and his government correctly perceived that after the 1930s the USSR would find itself at war with foreign enemies. To survive a modern war it was necessary to establish manufacturing industries, preferably deep within its territory. It was also necessary to establish military institutions that could fight a war, and that could be depended on not to mutiny and/or overthrow the government.
Change at this scale would necessarily take decades, even if the new alternatives were excellent. Clearly they were not.
I wonder how many readers of this book will understand the poverty of Russia in the 1930s. Here are
some estimates
: of
per capita
GDP (PPP in 1990 international prices):
1890, Russia, $944
1913, Russia, $1,551
1929, USSR, $1,426
1937, USSR, $2,267
Thus Russians had a
per capita
GDP of $4.25 per day in 1913, even less in 1929, and $6,21 in 1937. Average
per capita
household consumption is less. (
In 2010
, average
per capita
household consumption was 3/5th of
per capita
GDP worldwide.)
Thus Russia in 1913 had a per capita GDP comparable to Ghana in 2012; the USSR in 1929 had a per capita GDP comparable to that of Honduras in 2012. (
Source
)
Slum in Ghana
Honduran street scene
The theory was that income distribution was even in Communist Russia but author Fitzpatrick points out that there were significant differences in income in the USSR in the 1930s. High officials of the government had dachas in the country as well as large apartments. They had chauffeur driven cars at their permanent disposition. They had free food distributions, higher salaries, and shopped at special stores with lower prices. On the other hand, those in rural areas had lower incomes and faced shortages of food and many goods. People out of favor of the party must also have been much poorer than average. Many people must have been quite poor! And when you are worse off than average and the average per capita household consumption is only a few dollars per day, you are really poor,
GDP per capita 1500-1950
As the graph above shows, the world was poor through much of history. In recent history, many but not all countries have seen rapid economic growth. However, different countries have seen the take off at different times. Russia was later than Britain, France, Germany and Italy but faster than many of the countries of Africa and Asia.
GDP
per capita
is only one indicator of development.
It has been estimated
that life expectancy in Russia was 39.3 years for men and 44.8 years for men in 1926; in 1938 it had only increased to 40.4 years for men and 46.7 years for women.
The Soviet census of 1937
was destroyed because it indicated that the population of the Soviet Union had actually decreased since the 1926 census.
The Soviet famine of 1932–1933
led to the deaths of millions.

Interpreting the book


I suspect that many of the social conditions that are described in Fitzpatrick's book would be found in poor countries then and now. Some may be widely shared human behaviors described in Stalinist or Russian terms. Others are related to Russian history and the cultural heritage that people in Russia still shared from the country's Tsarist past. How much then is due to the Stalinist political and economic innovations?
Think about poor people
who have real needs for food and shelter that are unmet and that they don't have the money needed to meet. They do what they can to assure the survival of their families and themselves. They live in crowded, poor quality housing. They do what they can to get food, sometimes depending on others, and sometimes even stealing. They dress poorly. They often don't send their children to school because they need the small increment of income that each child can bring into the household. Sometimes -- often -- they move to someplace else where they hope to be less poor, often migrating to the city. A lot of everyday Stalinism may simply have been everyday poverty.
Fitzpatrick describes the phenomenon of "blat", the use of personal connections to get access to things needed in the absence of a working market system and sufficiency of production. She describes "blat professionals" who worked to assure that factories got the input supplies needed to meet quotas, and "blat virtuosos" who helped consumers find consumer goods that they needed that were not available from the government nor government stores. I think we would call these people "fixers" and I think to some degree such people exist in most societies. I know that in my own work, a well stocked Rolodex used to be important. (Younger people might relate to lots of friends and contacts that they have through online social networking.)
She also describes a system of patronage in which lower ranked people depended on higher ranked patrons to solve problems for them. I worked a lot in Latin America and the partron is still an important part of one's social network for many Latins. So too is the compadre or comadre who help to get through the vicissitudes of life.

Of course, poverty was not the only bane of Russians in the 1930s. There were purges, large numbers of people in the gulags, crime, persecution of anyone connected to the former upper and middle classes, and lots of frank racial and religious prejudice. People spied on each other, and the fickle finger of the state could turn a difficult existence into a hellish one in an instant.