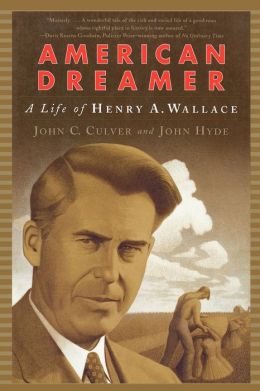 Yesterday the
B&N History Book Club
discussed
American Dreamer: The Life of Henry A. Wallace
by John C. Culver and John Hyde. I have
already posted on the book
, but I want to add a note that was not discussed last night.
During the discussion comments were made several times that Wallace had had religious beliefs that were unconventional and probably a political handicap. He apparently moved from a rather conventional protestant upbringing to a wider range of spiritual interests. At least from the book it seems unlikely that he ever publicly summarized his religious positions for the public when they had fully matured.
The authors of the book were a former Senator and a journalist from Iowa; I am not sure whether those two would find my religious interests or those of any of the club members to be normal and acceptable. The club has after all read books on ancient religion and Cromwell, and we are all more interested in Islam today than were the people of the United States in the 1930s and 40s,
Perhaps the most controversial aspect of Wallace's religious views were related to some letters he wrote to
Nicholas Roerich
and his associates, or perhaps I should say apparently wrote (since there was some thought that they might have been forged). The letters were obtained by Republicans and eventually some were
published by Westbrook Pegler
, a conservative newspaper columnist with considerable audience in the 1940s. I suspect that Roerich was a more serious person than we are likely to recognize.
Altai. Peaks and passes named in honor of the Roerich family
Roerich was a painter with paintings in various museums; there are apparently museums entirely devoted to his work in New York India and Russia. Roerich was also an art teacher, and was a designer with the Diaghilev company -- perhaps best remember for designing the sets and costumes for the debut of Stravinsky's Rite of Spring. Roerich and his wife were the founders of
Agni Yoga
.
Roerich was well known for the
Roerich Pact
, signed on April 15, 1935 by the representatives of American states. The pact provided for the Protection of Artistic and Scientific Institutions and Historic Monuments. The protected facilities would be indicated by a flag with a specific symbol, much as hospitals are protected by the sign of the Red Cross/Red Crescent. Similar protection was agreed more widely among nations under the auspices of UNESCO and related organizations.
From
an interview of Vladimir Putin with the Indian Media and the Russian RTR TV Channel
QUESTION: Mr Putin, I have a long-time relationship with Russia. Why is it that everyone I meet here has some memories of India: some kind of films, songs, names of actors? What associations does India conjure up for you?
VLADIMIR PUTIN: First, we should recall Nicholas Roerich, an artist who is well known in Russia and in India. A remarkable life, remarkable work, a remarkable example of spiritual kinship, which may not lie on the surface but nevertheless, spiritual kinship between our peoples.